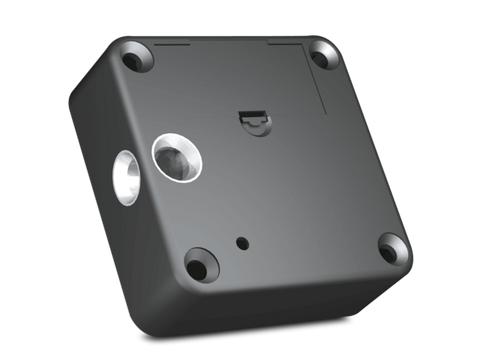 BURG electronic RFID B-Smart-Lock MASTER
Electronic hidden lock MASTER including VARTA battery inside.
Electronic furniture lock that can be used with single-wing revolving doors, sliding doors and roller blinds made from wood and other non-metal materials. Use as stand-alone or with up to five locks with group functions (simultaneous opening). A locking part with lock bolts is available as an accessory.
Advantages:
Can be programmed without using a computer
up to 32 transponders per lock
Can be used in areas with a temperature range between 0 °C and 40 °C
Dimensions: 60 x 60 x 22 mm
Examples of use:

Schools, Universities, Shops, Malls, Public institutions, Gyms, Companies and more.
Mode:
Free choice/  Multi-user
Fixed user
Characteristics:
Material:
Plastic
Batteries:
Lifecycles: 10.000 cycles
RFID-frequency:
125 kHz (E M4200, T 5577)
Delivery terms:

On stock in Vilnius.
Delivery time - 2-3 days.
Free delivery within Lithuania, Latvia, Estonia.
Accessories are available upon request.
Click here for installation video